Colone is a beaded charms maker.
Colone's beads charm was born within the hands of a Japanese.
I made the small ornament with my favorite moments, like when I find some little flowers, colors of the sky, sunlights on the water, someone's pretty motions… while I am walking under the sun.
It is a pleasure for me if these works flavors with you.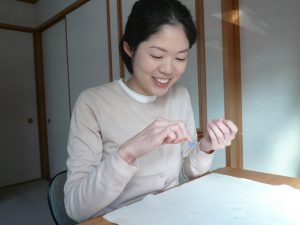 Keiko Matsuda
○○○○○○○○○○○○○○○○○○○○○○○○○○○○○○○○○○○○○○○○○○
Hello.
This is Colone.
Please pronounce it "kolon", like the Japanese onomatopoeia, it means it's round and little.
It makes mainly little beads charms by various glass beads.
And those glass beads are stringed by a nylon gut, shaped into various motifs.
Those motifs with some metal parts are beaded charms.
These are put on bags, poches, and you…
P.S. I'm happy to keep your charms dry. Please do not swallow and be gentle.
○○○○○○○○○○○○○○○○○○○○○○○○○○○○○○○○○○○○○○○○○○
Catalog
| | |
| --- | --- |
| | These are mainly small ornaments the size of a key ring. Especially, it is easy for them to be put on a thin metal part such as a chain. |
Table of Contents
Daisy|Strawberry|Hall crabapple|A lily of the valley |Bottle|Teruteru|Clammie|Plumeria|Ice ball|Heart |Clover|Rabbit|Mushroom & Berry|Pie|Ribbon|Ball|Stardust Ball|Flora|Sasanqua|Wreath
○Metal parts have been taken off to be east to see. Put on a lobster clasp or ball chain each when you use.
| | |
| --- | --- |
| | Little flowers made of drop beads.Size: 1cm |
These are strawberry, mini strawberry, flower of strawberry.

You might feel grainy from strawberry by some seed beads.

Size (strawberry) : W1×H1.8cm
| | |
| --- | --- |
| | Hall crabapple is a friend of cherry blossoms. Size: W1.5×H4cm |
| | |
| --- | --- |
| | In addition to a white lily of the valley, of course, there are even pink, purple, light blue colors. Size: W1×H4.5cm |
| | |
| --- | --- |
| | A big bottle is made of three fire polish beads, a small bottle is made of some seed beads. When big bottles have light, it is glimmering.Size: W1.2×H1.8cm |
| | |
| --- | --- |
| | Teruterubouzu is a Japanese mascot hanging beside windows for wishing fine weather on next morning. It is often made of handkerchief by family on the day before an happy event.Size:W1.5×2cm |
| | |
| --- | --- |
| | When the two shells are open, there is Clammie in it. Their eyes are made of glass pearl beads.Size (closed) :1.8×Thick 1.5cm |
| | |
| --- | --- |
| | A little flower have been made of five petal beads. Size: 1.8cm |
| | |
| --- | --- |
| | A colorful bead ball being wrapped with clear triangle beads. They are shining feel like cool.Size:1.3cm |
| | |
| --- | --- |
| | Fluffy hearts have been made of 3mm round beads. Size: W1.7×H1.5cm |
| | |
| --- | --- |
| | Clover leaf is made lightly by seed beads. Flower is made roundly by long drop beads. Size (leaf): W3×H4cm Size (flower): W1.5×1cm |
| | |
| --- | --- |
| | Three heads high rabbits were born. Size: W1×2.3cm |
| | |
| --- | --- |
| | A cap of mushroom is made of triangle beads, so they are shining by angle. Size: W1.9×H2cm Wild berry is made of some tiny drop beads. Size: W1×H1.2cm |
| | |
| --- | --- |
| | Pie is made of some peanut shaped beads called butterfly beads. Size (part of beads) : 1.3cm |
| | |
| --- | --- |
| | This has been weaved up softly by a lot of seed beads. Size: W2.5×H1.5cm |
| | |
| --- | --- |
| | Balls of various colors have been made by a simple recipe, so many! Size: 0.8cm |
These have been made of many blue beads representing is t

he celestial sphere.

Size: 1.5cm
| | |
| --- | --- |
| | They are weaved like piling for each petals one by one and can be put on a bag directly, because it's rather big. Size: 3.5cm |
| | |
| --- | --- |
| | Sasanqua is a friend of Camellia. Petals have the shape of a heart. Size: 4cm |
| | |
| --- | --- |
| | They are wound by colorful round beads and gold seed beads. Merry feeling is put closely. Size: 2.5cm |